Manually operated control devices PITjog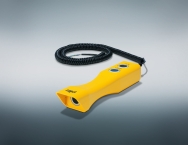 Selection of the correct control and signal devices is a key factor for the safety of man and machine. Emergency stop pushbuttons, muting lamps, manually operated control devices, enabling switches and operating mode selector switches enable short reaction times and are therefore essential for a safe solution.
Enabling switches are used when work is being carried out in a plant or machine's danger zone. For example, machine functions can be controlled manually with the safety gate open.
PITjog is manually operated control device for two-handed operation.



Read more