Line inspection devices PLIDdys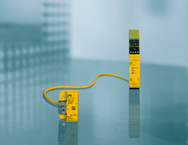 The safe line inspection device PLIDdys provides safe power-up on two-wire connections, providing maximum safety on long cable routes. With PLIDdys, unintended power-up or plant start-up can be excluded in the event of an error. This is particularly beneficial on interlinked plants or on plant sections distributed over a wide area, which may not always be clearly visible.
An extremely compact design means it can be easily retrofitted into an existing plant and PLIDdys can be incorporated into the sensor or switch, for example.
In combination with the evaluation device PNOZ e8.1p, the line inspection device PLIDdys is the optimum solution for safe cables/connections.

Read more