Servo motors PMCtendo SZ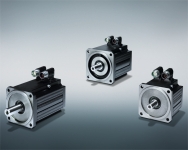 With servo motors PMCtendo you will find the right motor for each specific application – whether your focus is on dimensions, dynamics, controllability or feedback systems. Thanks to their high power density, PMCtendo SZ have an extremely short overall length and are also lightweight. As a result they are particularly suitable for on-board axes and cramped conditions. Precise motor synchronisation, due to low cogging torques, provides constantly high process quality.
PMCtendo AC servo motors are available for a large torque range and in various speeds. For new designs we recommend the PMCtendo SZ range of servo motors.

Read more