Electronic monitoring relays PMDsigma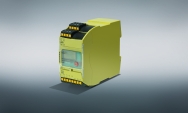 PMDsigma is the new generation of electronic monitoring relays. They reduce the number of hazardous situations for man and machine and increase the service life of plant and machinery. Save costs and guarantee an efficient production cycle.
The electronic monitoring relays PMDsigma provide failsafe monitoring of true power or insulation through menu-based configuration.
User-friendly diagnostics via a display reduce downtimes.

Read more