Safety relays PNOZ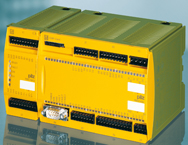 PNOZ safety relays monitor safety functions such as E-STOP, safety gate, light grid, two-hand control and many more. Every day, PNOZ safety relays prove themselves in millions of applications worldwide. In 1987 Pilz developed the first emergency stop relay to protect man and machine. That was a milestone in safety technology.
The PNOZ brand is now synonymous with safety relays.
PNOZ - The original!

Read more