Safety switch PSENmech and safety bolt PSENbolt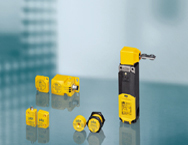 Mechanical safety switches PSENmech are suitable for safe monitoring of a movable guard. If the guards are opened, the PSENmech safety switches are triggered and the hazardous machine movement is stopped via a Pilz evaluation device. Using increased extraction force on the actuator, PSENmech safety switches prevent the safety gate from being opened unintentionally. They comply with the standard EN 1088 (protection against defeat) due to their mechanically-coded actuators.

Read more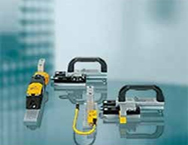 The safety bolt PSENbolt consists of a mechanical bolt, handle and various combinable safety switches, which are based on different operating principles. This removes the need for expensive in-house engineering. As well as complying with the maximum requirements for protection against defeat and manipulation, the safety bolt also achieves secure safety gate monitoring up to the highest category PL e of EN/ISO 13849-1 / SIL CL 3 of EN/IEC 62061, depending on which sensor is used. As a mechanical alternative, the safety bolt PSENbolt is particularly suitable for safety gates that are difficult to adjust.

Read more