System components PSSnet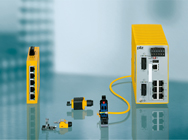 With the new Ethernet infrastructure components PSSnet from Pilz you can adapt the network topology flexibly to your plant layout. Topologies such as star, tree and ring structure are now possible thanks to Ethernet infrastructure components. Thanks to the use of various media such as fibre optics, network limits can now be expanded without problem.
Two different switch ranges are available in the first expansion phase. The PSSnet SLL switches (Switch Low Layer) are suitable for smaller networks. PSSnet SHL switch device types (Switch High Layer) have management functions, enabling larger networks.

Read more