Let's create the solutions together!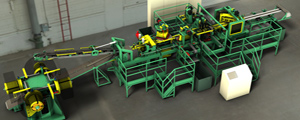 In cooperation with company 'DJOMICO' from Kragujevac, UMBRAmatik has developed a software for the new generation of cut to length (CTL) lines, for thickness of sheet, from 0.23 to 0.35 mm.
CTL lines for transformer industry are fully automatic CNC lines designed in various options in line with customer needs. It has fully integrated system for modern cutting configuration. All the lines are made as modular systems and could be manufactured as custom machines.
All lines are with vertical and horizontal step lap functions and could be designed with moveable tools.
Machines are available in three different versions (depending on the width of the sheet, measured in mm):
CTL400,
CTL600,
CTL1000.
All three versions can have different options for cutting, slicing or punching the metal sheet, which is being processed.
More information on: